Our favorite holiday dessert for Thanksgiving and Christmas was a fresh-tasting pineapple lime Jell-O confection we always called "Green Stuff."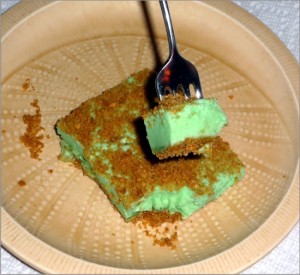 For special occasions, my mom made a delicious dessert we called "Green Stuff." I never knew its real name.
But I remembered that it contained lime jello, crushed pineapple, whipped cream… and marshmallows. Happily, my sister found the recipe and I learned how to make this memorable dessert in time for Christmas last year.
It's a wonderful recipe for potlucks and holiday meals. A single recipe delivers many, many servings, you see. Light and refreshing after a big meal… and feeds a multitude.
My research into the name of this wonderful no-bake confection led me down a few side roads, including someone else's quest for a 1950s recipe that sounded very similar to my mom's. Not one of the recipes I came across matched my mother's, but it seems there were a lot of people who recalled a holiday treat from 50 years ago known as "Green Stuff."
So here it is, the recipe that my mom probably cut out of a magazine in the 1950s or early 60s and that graced the Christmas dessert table many years running. You see, we LOVED this dessert so much, we always asked her to make "Green Stuff" for special meals.
Let's see if this recipe rings any bells for you. Or perhaps you're more familiar with one of the alternatives… there are quite a few. I just couldn't find one exactly like my mom's.

Green Stuff was always our favorite Christmas dessert
My sister and I remember this dessert from our childhood and we're both in our later 60s now, so that's how long it's been around in our family.
I've made this dessert twice so far (this decade). The first attempt got the flavor but not the lightness. My second attempt came out FABULOUS.
Now that I've rediscovered the recipe, guess what we're having with Christmas dinner again this year?
I hope you enjoy this classic dessert as much as our family has over the years.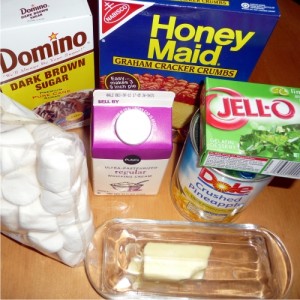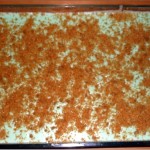 Servings

Prep Time

12

people

1/2 to 3/4

hour
Cook Time
2-3
hours (includes chill time)
Servings

Prep Time

12

people

1/2 to 3/4

hour

Cook Time

2-3

hours (includes chill time)
Servings

Prep Time

12

people

1/2 to 3/4

hour

Cook Time

2-3

hours (includes chill time)

Servings

Prep Time

12

people

1/2 to 3/4

hour

Cook Time

2-3

hours (includes chill time)
In a large bowl, dissolve 1 large box (or 2 small boxes) lime Jell-O in 2 cups boiling water (half the normal amount).

Add 16 large marshmallows (cut into pieces) while the water is hot, so the marshmallows melt completely.

Chill in the refrigerator (in the bowl) for 30 minutes, or until it has cooled enough to whip.

Grease a 9 x 13 inch pan.

While the Jell-O and marshmallow mixture cools, prepare your graham cracker mixture.

Melt 1/3 cup butter and blend in a bowl with 1/2 cup brown sugar and 1-1/2 cups graham cracker crumbs. I used a fork to incorporate these ingredients.

Put 2/3 of the graham cracker mixture on the bottom of the 9 x 13 pan. Pat it down to create a crust on the entire bottom of the pan. I did not bake or chill the graham cracker mixture before adding the other ingredients on top of it. Some recipes mention both methods.

Remove the jello bowl from the fridge and whip the Jell-O and melted marshmallow mixture until it's completely frothy. (My mom's recipe just said, "Whip well" and the first time I made this dessert, I didn't froth it up enough. See picture below for frothiness.)

Whip 1 cup of whipping cream to soft peaks and add to the Jell-O-marshmallow mixture. Whisk the cream in or use the blender briefly and gently to combine the ingredients.

Fold in 1 cup crushed (drained) pineapple. PLEASE NOTE: Fresh pineapple will not allow the Jell-O to set; this needs canned or cooked crushed pineapple.

Blend well and then pour onto the graham cracker crust.

Sprinkle the rest of the graham cracker crumbs on top.

Chill a few hours or overnight before eating.

Or not. We dug in after about an hour and it was pretty well set by then, but if you want to make neat squares for serving, let it chill longer.
See the Frothy Stuff?
That's what my mom meant by "whip well."
After the marshmallows are melted in the hot Jell-O, you want to cool the mixture for at least 1/2 hour.
Then whip the Jell-O and melted marshmallow mixture so it is entirely frothy, with no dark green remaining.
Like in the picture here.
This step is important. On my first attempt, I didn't get it frothy enough, so the dessert looked more like Jell-O than fluff.
When done correctly - like I did the second time - "Green Stuff" is a light, fluffy, fruity dessert, perfect for after a big Thanksgiving or Christmas dinner.
More ideas for pineapple-Jell-O desserts
GardenWeb Forum has a few conversations ongoing (with suggestions) about desserts people remember from the 1950s. Visit the GardenWeb forum here.
Foodista.com: No marshmallows in this recipe and it uses evaporated milk instead of whipping cream. But it's pretty close. Visit Foodista here.
Just A Pinch Recipes shows a recipe that adds cream cheese and nuts, but you can see the texture we're aiming for in the photo here.