My grandmother's Swedish pancakes recipe brings back so many memories of my childhood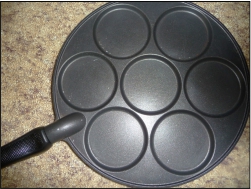 As a youngster, I always called them Finnish pancakes, because my grandparents came from Finland… and our family made these pancakes a lot. This recipe was my grandmother's originally.
What brought this childhood favorite back to mind was a need we had last year for a soft foods diet and I happened across a box of Lunds Swedish Pancake Mix at the health food store. We tried it – and it was really good, almost as good as the pancakes my sister and I used to make when we were kids.
Well… I didn't have a Swedish pancake pan, so I remedied that error with a quick visit to Amazon.com.
My grandmother used syrup or strawberries, rather than lingonberries on her pancakes, so that part of the Swedish Pancake tradition passed us by (probably because we weren't Swedish).
These pancakes are easy to make from scratch. My sister and I were middle-school-age when we learned to make them. And how we loved these little treats for breakfast (or lunch, or supper).
Here's our family recipe, if you'd like to give them a try.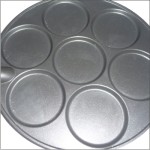 Servings

Prep Time

2-4

servings

5

min.
Cook Time
3
min. (per batch)
Servings

Prep Time

2-4

servings

5

min.

Cook Time

3

min. (per batch)
Servings

Prep Time

2-4

servings

5

min.

Cook Time

3

min. (per batch)

Servings

Prep Time

2-4

servings

5

min.

Cook Time

3

min. (per batch)
Beat the eggs with a whisk or fork

Add flour, sugar and salt, mixing until smooth (batter is quite thin)

Heat frying pan to medium (or medium-high) heat

Lightly butter the pan so batter does not stick

Drop in a tablespoon of batter for each pancake (A Plett pan works best for making even-sized pancakes)

Keep pancake batches warm in the oven or serve immediately (I do the latter... my family can't wait)

Serve with fruit topping or syrup