It's easy to make dingbats and arrows with text fonts.
Easily create fun graphics, including hearts and smiley faces… with Arial and Times New Roman.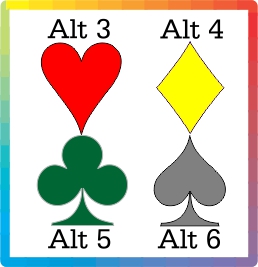 If you need some cool bullets, arrows and other Dingbat style graphics, but you don't have the Wingding or Zapf Dingbat fonts installed on your computer, here's how you can make them using Times New Roman, Arial and other common text fonts.
They don't, however, usually work with Verdana and other fonts designed for web use.
Alt Key symbols work best in print materials and often on your website, but not in emails. HTML codes will generally show up on web pages.
For Alt Key symbols, hold the Alt Key, then press the numbers in succession, while still holding down the Alt key.
For Unicode symbols, type capital letter U, then the plus sign (+) and next the numbers and letters shown in succession. Then hold down the Alt Key and press lower case letter x. Let up the Alt Key.
For HTML codes, type the Ampersand symbol followed by the Number sign – – and then type the numbers in order – followed by a semi-colon.
Smiley Face ☺
Alt, 1 for Print
U+263A (Alt, x) for Unicode
&#9786 followed by ; for HTML
Black Smiley Face ☻
Alt, 2 for Print
U+263B (Alt, x) for Unicode
&#9787 followed by ; for HTML
This graphic is the "black smiley face" with blue fill and orange outline – Arial Font, Alt, 2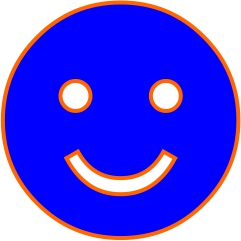 Sun ☼
Alt, 1, 5 for Print
U+263C (Alt, x) for Unicode
&#9788 followed by ; for HTML
Female Symbol ♀
Alt, 1, 2 for Print
U+2640 (Alt, x) for Unicode
&#9792 followed by ; for HTML
Male Symbol ♂
Alt, 1, 1 for Print
U+2642 (Alt, x) for Unicode
&#9794 followed by ; for HTML
Spade ♠
Alt, 6 for Print
U+2660 (Alt, x) for Unicode
&#9824 followed by ; for HTML
Club ♣
Alt, 5 for Print
U+2663 (Alt, x) for Unicode
&#9827 followed by ; for HTML
Heart ♥
Alt, 3 for Print
U+2665 (Alt, x) for Unicode
&#9829 followed by ; for HTML
Diamond ♦
Alt, 4 for Print
U+2666 (Alt, x) for Unicode
&#9830 followed by ; for HTML
Black Triangle/Pyramid ▲
Alt, 3, 0 for Print
U+25B2 (Alt, x) for Unicode
&#9650 followed by ; for HTML
Black Triangle Pointing Down ▼
Alt, 3, 1 for Print
U+25BC (Alt, x) for Unicode
&#9660 followed by ; for HTML
Black Square White Circle ◘
Alt, 8 for Print
U+25D8 (Alt, x) for Unicode
&#9688 followed by ; for HTML
Inverse White Circle ◙
Alt, 1, 0 for Print
U+25D9 (Alt, x) for Unicode
&#9689 followed by ; for HTML
Black Square ■
Alt, 9, 6, 3, 2 for Print
U+25A0 (Alt, x) for Unicode
&#9632 followed by ; for HTML
White Square □
Alt, 9, 6, 3, 3 for Print
U+25A1 (Alt, x) for Unicode
&#9633 followed by ; for HTML
Up Arrow ↑
Alt, 2, 4 for Print
U+2191 (Alt, x) for Unicode
&#8593 followed by ; for HTML
Down Arrow ↓
Alt, 2, 5 for Print
U+2193 (Alt, x) for Unicode
&#8595 followed by ; for HTML
Right-Pointing Arrow →
Alt, 2, 6 for Print
U+2192 (Alt, x) for Unicode
&#8594 by followed ; for HTML
Left-Pointing Arrow ←
Alt, 2, 7 for Print
U+2190 (Alt, x) for Unicode
&#8592 followed by ; for HTML
Left-Right Arrow ↔
Alt, 2, 9 for Print
U+2194 (Alt, x) for Unicode
&#8596 followed by ; for HTML
Up-Down Arrow ↕
Alt, 1, 8 for Print
U+2195 (Alt, x) for Unicode
&#8597 followed by ; for HTML