My mother, Anne, was the Queen of Courage in my life – a graceful, gracious and tough lady, especially when faced with adversity.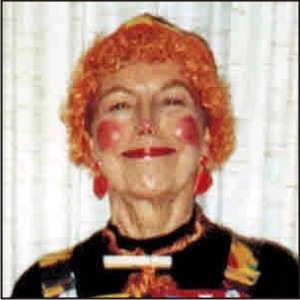 The Finns have the perfect word for her kind of toughness – sisu – which describes determination and perseverance when faced with adversity. My mom had sisu up the wazoo. That's why I called her "the Queen of Courage."
My mom's life was going along pretty well for quite a while. She learned ballroom dancing shortly before turning 70 and had a blast taking dance lessons with her handsome instructor (whose wife taught my step-dad his ballroom steps). My mom helped me sell the directories I was publishing in my evening hours and was hostess for many business and family get-togethers. She was busy and enjoying life.
Then one day in the mid 1990s, she started experiencing foot pain and had a little difficulty walking. Within a very few days, her left leg was becoming paralyzed. A neurologist told her that there was nothing that he could do and she'd never walk normally again.
Luckily, one of my mom's dance studio buddies was a nurse who insisted that she see a particular specialist – immediately. She did and was admitted to the hospital – immediately. The paralysis was quickly spreading to her other leg and left hand. Left unchecked, who knows what might have happened. But the neurologist who saved her life started her on high doses of steroids, which slowed down and ultimately stopped any further nerve damage.
The doctors never did put a name to her condition, even after days of tests. Didn't matter. The damage was done and a long uphill climb of therapy was prescribed.
Here's my mom as Raggedy Ann – before she got sick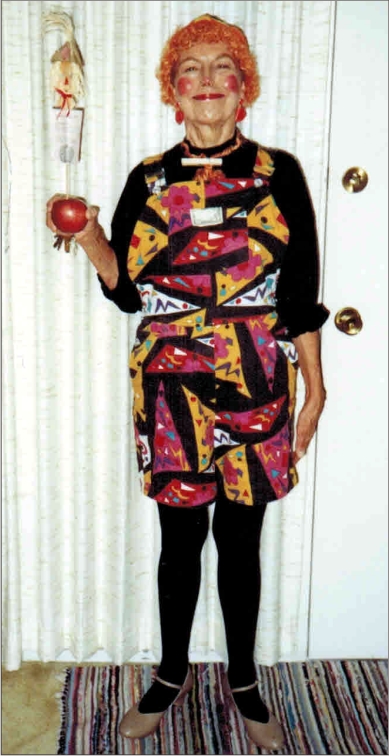 Getting ready for Halloween at the dance studio…
My mother was active and healthy… until all this happened.
This photograph was taken a year or two before her hospitalization. She was all dressed up as Raggedy Ann for the Halloween costume party at her dance studio. You can see she's already got her dancing shoes on.
The smile you see is how she felt. She was really proud of the costume she put together for that event. I think that's the year my stepfather, Stuart, went as the pope, wearing a long white robe and carrying a turkey baster as his scepter. They had fun, those two.
My mother was in the hospital for a long time, while they stabilized her and tried to figure out what hit her. During that time she lost so much weight, she looked like a scarecrow and, because of the severe nerve damage, the muscles of her arms and legs looked as if they weren't even attached anymore.
And this was a lady who did strenuous dance training every week.
It was amazing to me how quickly her body deteriorated. I really didn't know if she'd ever be able to recover from it.
The Queen of Courage at 0utpatient pool therapy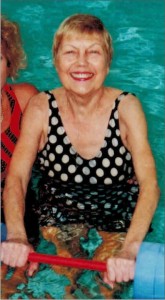 Months and months of therapy…
And smiling!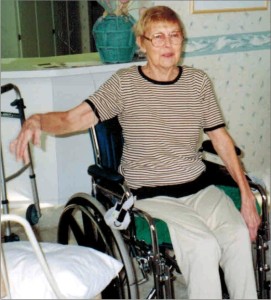 My mom spent a month in Healthsouth Rehab Hospital, getting 3 hours of physical and occupational therapy a day. In her situation, I'm not sure I would have been so gung-ho to exercise but my mother was determined to get better. She wanted to walk again, to drive again… and most of all, to dance again.
You can see in the pool picture just how thin her left arm is compared to the right arm, which wasn't nearly as damaged. And this is after more than a month of therapy in the hospital.
Months and months of home therapy followed. And I don't remember her complaining all that much about the drudgery of it. I know she didn't enjoy staying in a wheelchair all day and that could have spurred her on to work harder.
She's smiling in this photo, too.
Christmas – the following year
Looking pretty good!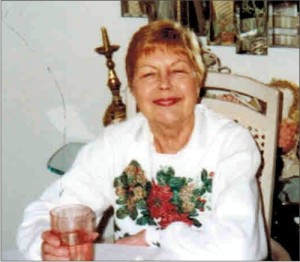 Here's a picture of my mom taken at Christmas dinner a year after her illness.
She still tired easily and a family function could wear her out pretty quickly. But she gamely hung on and managed to stay awake until after the presents were opened.
My mother kept on with her exercises at home, even when the therapists stopped coming and eventually was able to walk again. She could drive her car short distances, but her reflexes weren't as fast as before, so driving wasn't something she did very often.
After so much nerve damage to her feet, wearing high-heeled dancing shoes wasn't possible, but she did pretty well in secure, flat shoes. It wasn't the same as before… but it would have to do.
She didn't complain about it. She just researched the alternatives and worked around things, pretty much. And her "gang" at the dance studio was tremendously supportive, even if she wasn't on the dance floor as often as before.
12 years later…
Mom's last Christmas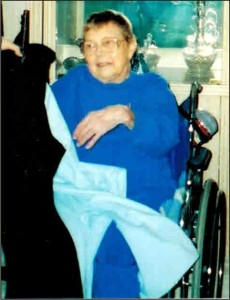 While my mother never recovered 100% from her illness, she made the best of the situation and functioned to the highest of her capabilities for a few more years. During this time, she remained the majordomo of the household and, even though she needed extra help, directed the efforts of the helpers in her usual no-nonsense style. (I was one of the helpers.)
As she got older, however, the damage to her body started to catch up with her. Further, as she aged, she was increasingly unenthusiastic about keeping up an exercise program. My mother spent the final few years of her life in a wheelchair, more or less house-bound.
This picture shows my mother at her last Christmas gathering at home. In fact, she was lucky to be there at all that year. We had to get special permission (and wheelchair transport) to bring her home for the day from the nursing center where she was staying – temporarily, as we thought then. She never did make it back home after that… and transitioned out of body in May 2006.
Every year since then, usually around Mother's Day, I walk myself back through that time, wondering if I could have handled an illness that severe with so much grace and spunk. And, to be honest, I don't know.