Dental and medical problems often require a soft foods diet. And for vegetarians, this can require a bit of extra research and creativity.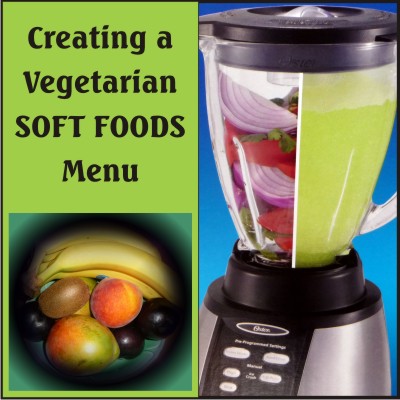 Has your doctor or dentist ever told you to eat a "soft foods diet" for a specific dental or health problem? And did you find out, like I did, that most soft food menu lists are not vegetarian-friendly, since they contain a lot of ground meat and fish suggestions?
For vegans, a soft food routine would be quite tricky, because so many of the recommended soft foods contain dairy or egg products. I mean, how many smoothies can one person drink in a day, never mind for a week or two… or 5 weeks, in our case? The first time. We had two more dental situations after that requiring soft foods.
In August my dentist sent me to have root canal surgery and my son's orthodontist installed a TMJ dental appliance with the instruction to "eat soft foods – almost liquid" for a month.
This page represents my research, quick fixes and make-do efforts to satisfy the hunger pangs of a 6 foot 1 inch male with food that isn't boring, that IS sufficiently filling and that is nutritious enough to keep us ticking.
Did I say it was for a whole month? And me with no juicer. Guess how I spent the first weekend? Shopping for a blender, Googling smoothie recipes and researching protein powders.
On top of this, we're becoming more vegetarian in our diet, so food such as ground beef was out… and menu creativity was most definitely called for. This page is a research record of how we handled our soft food lifestyle for four weeks in a row (it ended up being 5 weeks). Here's what we came up with.
UPDATE 1: The permanently-affixed appliance was removed after 5-1/2 weeks of eating soft foods (that's a LONG time to completely overhaul a family's eating plans). My son now has a TMJ dental appliance that can be removed for eating. Whoopee!
UPDATE 2: I just had oral surgery myself and created my soft foods grocery list from… my own web page. Sure did make it easier this time around.
Smoothies Were Top of the List for Soft Foods
We had to run out and buy a blender, which I later found cheaper on Amazon.
My basic recipe was 1 cup orange juice, 1 cup frozen strawberries, 1 fresh banana, sugar or stevia to taste. No need to add ice cubes when using frozen fruit.
UPDATE 2: Tried a home made "Orange Julius" and it wasn't bad. I didn't have most of the ingredients that the recipe websites suggested. I live in Florida… why would I buy frozen juice concentrate? So I combined some real orange juice with vanilla ice cream and it tasted just like an Orange Julius drink. Next time I'll try adding whey powder for some added protein. I've seen them add it at Orange Julius restaurants; I think that's what makes the drink frothy.
Soft Foods for Breakfast – Oatmeal or Cream of Wheat
If you've ever had to prepare a soft foods diet for yourself or a family member, you'll know what we're going through. If you're in this boat right now, I hope my research helps you in your own menu planning. And maybe my ah-ha's will spur you on to even better ideas. I don't think we can survive on ice cream and soup for a month.
I'm not much of a cook, so you won't find too many recipes… at least until later in the month, when I've had a little more practice preparing mush three meals a day. And, while my tooth is currently covered by a temporary crown, I'm not eating anything chewy either. Mealtimes have become a bit of a challenge for sure.
The one meal that's really easy, of course, is breakfast. Bless you, instant oatmeal! Thank goodness I already had some in the house.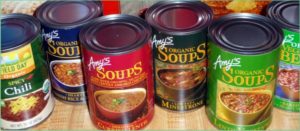 Amy's Organic Soups for Lunch
We had half a dozen cans lined up ready to use. Not only are we heading in a vegetarian direction, we're now eating organic as much as we can manage… and afford. So the same trip to the health food store revealed a bonanza of wonderful Amy's Organic Soups, which are lined up on the kitchen counter, ready to heat and serve… as you can see in the picture here.
So far, we've been very happy with Butternut Squash, Curried Lentil and Minestrone. Amy's Vegetable Lentil Soup is a tried and true favorite and Field Day Spicy Chili was a big hit. Now that I'm planning our menus ahead, I can order by the case from Amazon, where the prices are 50 to 80 cents a can cheaper than at my health food store. Obviously, I could make soup from scratch and, depending on how long we're going to need a soft foods menu, I may have to Google a few bean soup recipes… or buy a soup cookbook.
Here's what we had for supper Sunday night – Mashed potatoes, soft mac 'n cheese and peas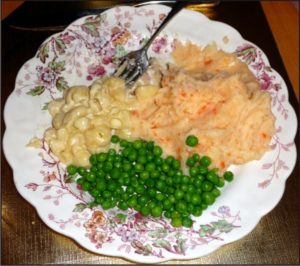 Saturday evening, my son's 30th birthday – the day we should have been celebrating in higher style – we ended up at Panera Bakery. The Broccoli and Cheese Soup was a big hit and sufficiently nutritious to get us through that day. And because this is a temporary diet and my 6'1″ son is not overweight, he can handle the calories in the soup.
On Sunday, I made mashed potatoes with carrots in them (hence the orange specks), peas and leftover Panera macaroni and cheese. I wish I liked cooking more. I have no idea yet how we're going to get through 4 weeks of this. Stay tuned, if you're desperate for ideas. I'll keep looking.
[NOTE] If you have a cholesterol issue, I'd steer away from Panera's Mac & Cheese, however. It's delicious – but with loads of cheese, according to one of their young cooks.
[UPDATE ON PANERA MAC & CHEESE] We recently found Panera's Mac & Cheese for sale in Target – in a single serving size – and, on reading the list of ingredients, noticed the inclusion of chicken stock. Not quite vegetarian, in other words.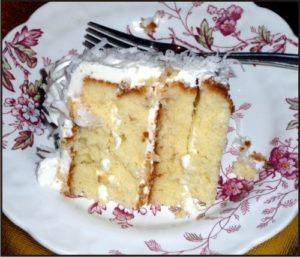 Birthday cake was on the soft foods menu!
I asked… and the dentist said "okay"
Because our soft foods diet started the weekend of my son's 30th birthday, we had to forego parties and chewy food.
But the orthodontist said that birthday cake was considered "soft food." Yahoo!
Here's a picture of the birthday cake we got from Publix.
Here's the soft food list that my research has come up with so far:
Soft cereals (oatmeal, grits, cream of wheat)
Ice cream
Pudding
Applesauce
Mashed potatoes
Mashed carrots
Macaroni
Bananas
Soft (pureed) fruits
Mashed pumpkin or squash
Baked beans
Pancakes (see my Swedish pancakes review below)
Scrambled eggs (we usually serve with grits)
Ground beef (not for "almost liquid" or vegetarian menus)
Yogurt and cottage cheese
Milkshakes
Soups (without crunchy bits)
Custard
Birthday cake!
Ramen noodles in broth
Ensure (recommended by the orthodontist… not gonna happen!)
Panera Macaroni and Cheese (better than my recipe, says my son)
Scalloped potatoes (soft, requires a bit of chewing)
Soft vegetarian chili worked well
Monday night was another Panera Bakery meal. My son's a sucker for their Broccoli Cheese soup and mac 'n cheese. Tuesday, I made scrambled eggs and grits. Then on Wednesday, we tried the chili we bought over the weekend at the health food store: Field Day Organic Spicy Vegetarian Chili.
We just added a little grated sharp cheddar and chopped sweet onions on the top and dug in. The texture worked well for my son's dental situation and we'll definitely get it again to make Cincinnati Chili when he's allowed to chew spaghetti noodles.
If you've never had Cincinnati Chili, here's how I make it. Basically, I boil spaghetti noodles, cook up some chili to put on top of the spaghetti, fresh-grate some sharp cheddar cheese and finely chop some sweet onion. You can get fancier, but this seems like enough steps for a chili-spaghetti dish. A little garlic bread and supper's done.
Another winner: Swedish Pancakes – soft and yummy
I used Lund's Swedish Pancake Mix the first couple of times and then made pancakes from scratch another. Though, I must admit… I like to have a box of Lund's available for quick meals.
If you like making recipes "from scratch," here's the link to my grandmother's Swedish pancake recipe.
Websites with soft foods diet resources