Great American Cookies – A Vintage Cookbook That's Worth Republishing
My favorite recipe books are now considered "vintage."
I cannot imagine why Lorraine Bodger's Great American Cookies hasn't been reprinted, but the only versions I've found are dated 1985 (the one I have) and 1987 (with the same title but different graphics on the dust jacket).
This is the very best cookie recipe book I've ever seen and deserves a wider audience.
Fortunately, a number of affordable almost new and used editions are available at eBay
and Amazon in good, clean condition and a few are even offered with Amazon Prime, so 2-day free shipping is available for them.
The recipes in this book are so tasty, it's worth adding to your collection… even used.
Great American Cookies contains some of the best recipes for a variety of cookie types: drop cookies, bars and squares, chocolate and nut yummies, holiday treats, party delicacies including meringues and ladyfingers… plus there's a fun chapter on cookie-cutter bears, gingerbread friends, funny faces and more that children will enjoy decorating.
My sticky notes permanently mark page 43 in the "bar cookies" section for the most delicious and easy-to-make Pecan Pie Squares, which I usually bake at Christmas time and page 63, with the easiest and tastiest Pecan Shortbread I've ever found. Here in Florida, I can buy fresh pecans pretty inexpensively, so that's why the pecan cookies are front and center.
Oh well… at least I have my own copy. But I wish you could, too.
Fun cookies for kids
Lorraine Bodger wrote,  designed and illustrated Great American Cookies. Here's an example of the very clear diagrams she created for the children's cookies section. I didn't include the recipe, but I wanted to show how clear and instructive the illustrations are.
The example I chose (below) is for Mittens and Gloves cookies, but there are equally terrific graphics for Brown Sugar Bears, Jam Pinwheels, Funny Faces, Snowfolks and Greeting Card cookies.
Bodger's illustrations make the recipes easy to follow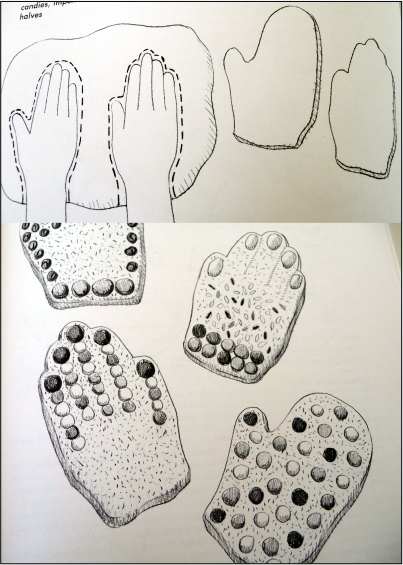 My favorite cookie cookbook – now a collectible
Here's why I like this book so much:
The recipe wording is very easy to follow
The ingredients are mostly items I have in my pantry
The black-and-white graphics clearly demonstrate some of the more complicated steps, such as twisting the chocolate and vanilla ropes in a cool-looking twist.
There's a Refrigerator Cookie recipe on page 79 that I want to try, too, so I can compare it to the recipe my mom marked "Excellent" in her copy of The American Woman's Cookbook.