Following Your Heart to a Life of Joy and Fulfillment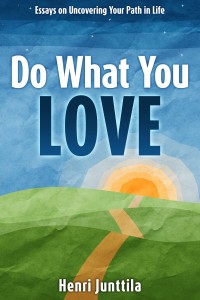 In a compilation of 16 essays, Do What You Love by Henri Junttila leads the reader step-by-step to an understanding of what can happen when we begin to be aware of – and listen to – our inner wisdom.
This is not a new concept for most of us. In my case, when I remember to still my mind and watch for signs and synchronicities, I am usually led in the right direction. So far, however, it seems to work better for "snap" decisions than for major life or work changes.
In my first reading of the book, I thought, okay… been there, done that… and set it aside.
But for the past couple of months, I've been dithering about a new purpose for one of my websites. I have pages of notes from lots of reading and thinking, but Henri Junttila's book actually guided me to a conclusion that feels "right" and that gives me lots of room to work and play in.
What worked here was that I finally did the "action steps" that followed each essay and ended up with a coherent mission that felt totally true.
Relax and Let Your Inner Wisdom Shine Through
The essays take up one short chapter each. The action steps are not difficult to follow. But to make the best use of this book, you do need to ask yourself the questions and allow the answers to trickle up into your conscious awareness. For each chapter.
The 16 essays won't likely tell you anything new, but they'll help reinforce the main theme of the book and, hopefully, your life: If you want to do what you love, you can receive all the answers you need from your own inner guidance.
You'll be reminded to follow your heart, rather than your logic – and to recognize the truth through your feelings of joy and fun, rather than the conflicting advice you receive from outside sources.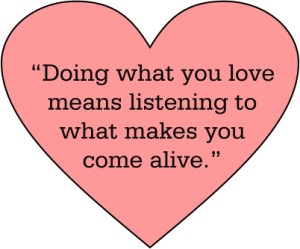 What's Your Burning Question?
If you decide to try this book, come to it with a burning question you have about a specific life or work direction. And do the action steps. I found the process very helpful. You might, too.
The chapter headings pretty much describe the journey you'll be taking:
On Not Knowing
On Having Too Many Ideas
On Wasting Time
On Thought
On Sharing Your Truth
On Criticism
On Opportunity
On Challenges
On Uncertainty
On Overnight Success
On Practice
On Making Money
On Running Away
On Synchronicity
On Finding Your Path
On Getting Started
There Are No Wrong Answers
You might get a few ah-ha moments while you're working on the 16 Q and A sections. I know I did.
But when I came closer to the end of the book, the emphasis of what I was receiving altered a bit and the end result was perfect… just perfect.
So I'll save all the intermediate notes because there were a number of great nuggets in there. But when I began really planning the new format for my blog, I started with the answer I received in the essay "On Finding Your Path." That's where my purpose and tag line showed up in one open-hearted instant.
I got my money's worth with this book, that's for sure. (The Kindle version is just $2.99.)
I downloaded Do What You Love to my Kindle, but it's also available in paperback (with 2-day Prime shipping, if Amazon's your bookstore).
You can read all the reviews and "look inside the book" here.