An adjustable book holder for people who like to read while eating… and cooking
I can now read while I'm eating and cooking… without spilling food on the pages.
Are you an avid reader in search of an affordable, functional book holder? Or are you on the lookout for a fun, yet practical, gift for a book-loving friend? I know just the thing because I love to read, too, and I finally treated myself to the Actto Portable Book Holder that lets me read while I'm eating (and cooking).
The Actto book stand pictured here is Amazon's Number 1 best seller in desk top bookstands. It's affordable… and it works. And, based on personal experience, I know it would be a very welcome gift for book lovers and home cooks alike.
You'll see in the photos below the method I had been using before I got my Actto book holder. For a long time, I made do with an upside-down calculator to rest my books on and a napkin holder to keep the pages in place. Except the napkins kept blowing around while I was reading at lunchtime out on the balcony. Time for a change.
You can follow my pictorial "book-holder saga" below. I've also included photos of my new book rest in action; it has turned out to be quite versatile.
For example, sometimes while I'm standing at the stove "stirring occasionally," I like to bring my library book into the kitchen and read a few paragraphs in between stirs. BBH (Before Book Holder), I'd have to hold the book in one hand and the spoon in the other and might occasionally splash a little something-or-other on the book. Not any more. Now I just pop my novel on the book stand and read in comfort while the spoon hand does its thing.
My new book rest has proved to be very handy for reading the mystery fiction that I love so much, especially during those eating-and-cooking moments. But I found another use for it that really works out well. It's now also my official cookbook holder.
Plus… the little prongs on the front keep the single-page recipes I print off the internet in place.
Easy to clean, lightweight, portable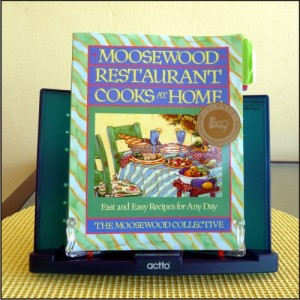 Two things I especially appreciate about my Actto book stand are:
(1) It's sturdy plastic, not wood, and very easy to clean, even after a stint in the kitchen, and
(2) it's lightweight and portable… very easy to move from my dining table to the kitchen to my office, where I use it to hold documents while I'm working on the computer.
If you have family and friends who love to read books while sipping coffee at the breakfast bar or eating lunch on the patio, they will be thrilled to have this Actto Book Holder. Readers with weak hands or wrists will really appreciate a stand like this, because it holds larger books, too. I used it for reading Game of Thrones, for example.
And as for cooks… we could all use a cookbook holder to keep our recipes out of the flour and milk. Here's a picture of one of my Moosewood books on the Actto, so you can see the height of the book rest compared to the size of the book.
My book holder works great for Kindles, too. I recently re-read Diana Gabaldon's Outlander series on my Kindle and discovered that the book stand put my e-reader at the right eye level while I'm eating lunch.
This is hands-down one of the best "gadgets" I've ever bought for myself.
Here's my OLD book holder – an upside-down calculator
Notice how I had to hold the pages down with the napkin holder while eating out on the balcony (with my book on top of my upside-down calculator, angled so I could read more easily).
Note the nice reading angle of my NEW Aacto book holder: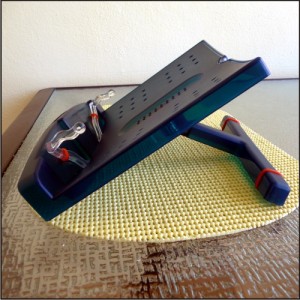 Also a handy straight-up angle for single-page recipes I print off the internet. You can adjust the angle to suit your personal needs. I've only shown 2 of many angle options available.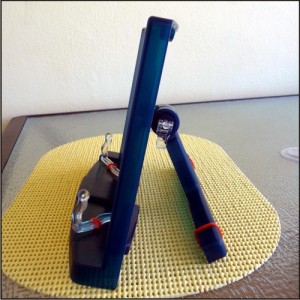 I bought my bookstand in 2013 and still use it every day. I love this thing!
To read over 1,000 reviews for the Actto BST-09 Portable Book Stand,
.