A Bonanza of Maple Leaves
I hadn't intended to buy candy online at all, but… in early October of 2013, my friend, Patricia, mailed me some red maple leaves. Pat lived in Florida until the previous February, when she moved back to her home state of Pennsylvania – and experienced the glorious colors of autumn leaves for the first time in over 30 years. Patricia knew I was also a northerner, so she sent me an envelope full of red maple leaves. You can see some of them in the picture here.
The north I'm from originally is Canada, where maple leaves are a big deal. So I started reminiscing a little.
And remembered those maple-leaf-shaped candies that I used to enjoy "up north." The more I thought about them, the more I got a hankering for them.
I Googled around until I found the company with the best reviews for maple sugar candy. I don't buy anything online until I read the reviews… and Amazon buyers usually give good, detailed descriptions. So that's where I headed. And found Mount Mansfield's one-pound box of pure Vermont maple sugar candies.
I had to test one first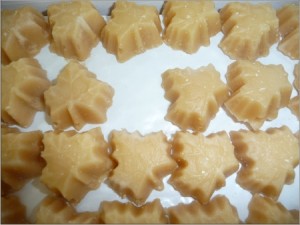 I bought a box of Mansfield Maple's Pure Vermont Maple Sugar Candy in early October and had to get more… right away! I received my second order of Mount Mansfield's delicious maple leaf candies near the end of the month and they were as fresh and tasty as the first box.
In fact, maple sugar candies climbed to the top of my holiday gift-giving list, because of the wonderful treats that arrived at my house… and were devoured in a matter of days. "Mansfield Maple" is a high-quality, affordable Christmas present for sweet-lovers.
Plus, the candies are made from pure maple syrup with no artificial ingredients, no preservatives… and no high fructose corn syrup. And they're organic.
Mount Mansfield's owner is a 5th generation maple sugar maker
The White family owns the 120 acre sugar woods where the maple syrup is made. Chris White uses his share of the syrup crop to make the maple sugar products that he now ships worldwide.
The boxes of candies I received was shipped directly from the Mount Mansfield farm in Vermont, with a big label indicating the "best by" date right on the box. The candies were obviously freshly-made and literally melted in my mouth.
My son, who ate maybe two-thirds of the first 1 lb box of maple leaves asked me, "Do we have any left?" He's not the "sweet-tooth" in the family, either. So we got two boxes the second time: one for me and one for him.
When you pop one of these maple treats onto your tongue, the mouth-watering flavor instantly lifts your taste buds to candy Nirvana. These maple sugar candies are really that good.
Shipping time was fast!
I ordered the second two boxes of candy on October 19. They were shipped October 21, and I received them via Priority Mail on October 23.
If you're ordering them during the holidays, you might need to add a couple of days, but from placing my order at Amazon to receiving them in my mailbox – only took 4 days! And they were shipped from Vermont.
This second batch had a "best-by" date of December 20th, a week later than the first box. The brochure that arrived with my order says that Mount Mansfield produces candy every day and ships it immediately when you order it.
My personal experiences with the company so far are proof of this.
Now with Prime shipping from Amazon
When I originally ordered my maple candies from Amazon, they shipped from the White's farm in Vermont, with shipping fees added. Now I see that Amazon offers the 1 pound box of Organic Pure Maple Sugar Candy with Prime shipping, which is great for me, because I update my Amazon Prime every year.
I you haven't signed up for Amazon Prime yet, you can try Amazon Prime on a 30-Day Free Trial
. All the members of my household get to use this service at no additional cost.